Press release for Medicine Management Preferred List
January 2021
WINDZOR Pharmaceuticals are pleased to announce that our GlucoRX HCT Glucose and Ketone Test strips are on the MMP List of Preferred Blood Glucose and Ketone Strips, for more information on this list www.hse.mmp.ie
There are various meters in the GlucoRX HCT range, all of which utilise the same GLucoRX HCT Strips. Please contact us should you require any information or would like to us to assist you in switching your patients to the GlucoRX HCT Meters.
The GlucoRX HCT Glucose strips are available in packs of 50 and the GlucoRX Ketone Strips are available in packs of 10. Both are available from United Drug and Uniphar.
GMS codes:
HCT Glucose Test Strips 85139
HCT Ketone Test Strips 97601
All GlucoRX HCT meters are available free of charge from Windzor Pharmaceuticals Ltd, contact orders@windzorpharma.com
…and introducing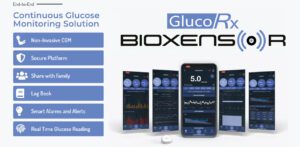 GlucoRx BioXensorTM Patient Friendly CGM.
BioXensor is our NEW sustainable, inexpensive, patient-friendly, non-invasive continuous blood glucose monitor which will generate accurate, real-time glucose measurements every minute. Our BioXensor remote monitoring technology can detect patients who may need critical interaction by a family member via their Smartphone, with early alerts to prevent hypo-/hyper-glycaemic episodes), leading to better monitoring in a painless manner.
GlucoRx BioXensorTM Smart App
Our Smart Mobile Applications for Android and iOS use Bluetooth Low Energy (BLE) to communicate with the GlucoRx BioXensor Device. We use the latest techniques with Cloud computing servers to securely transfer data, run algorithms and display the results in real-time on our online portals. Data communications are optimised for maximum battery life using innovative hardware and software designs, with end-to-end encryption and GDPR/HIPPA compliance. The APP, backend and platform are designed to make user navigation both simple and intuitive.